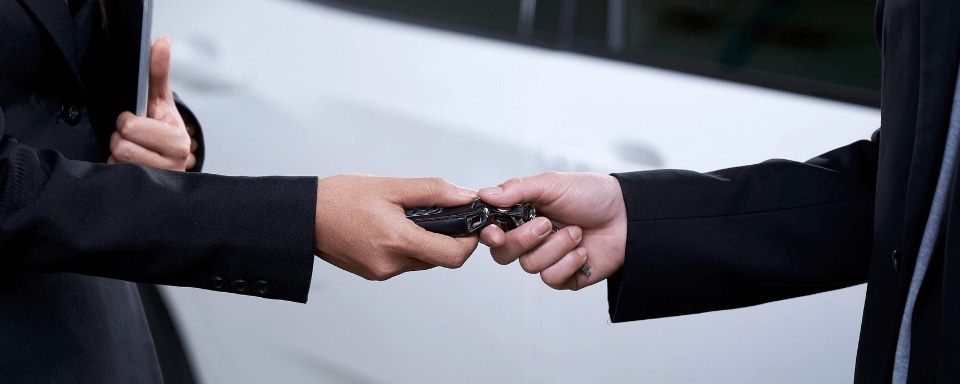 We'll Buy Your Car. No Purchase Necessary.
During your recent drive around the Sound, did you finally decide that you deserve to upgrade your daily driver? Have your weekend adventures to Snoqualmie gotten a bit too cramped as your family grows? Or have you simply told yourself, "it's time to sell my car," because the next time you venture to Bellevue Square, you want to arrive in a new vehicle?
Visit BMW of Bellevue today. We buy cars and take trade-ins all in a simple, streamlined process.
Selling your car with BMW of Bellevue is never a hassle
We'll buy your car and you don't have to buy one from us. So, if you just want to sell your vehicle, we're ready when you are.
Offer good for 7 days or 500 additional miles
Other dealers and websites will give you an estimate. At BMW of Bellevue, your certified offer is good for cash and guaranteed for seven days or 500 miles.
Get a check on the spot
Bring your guaranteed offer and vehicle to our BMW store and get paid the same day.
How It Works
Tell us about your car
Curious about car values in the Bellevue, Redmond, and Kirkland areas? Our easy-to-use online car buying tool is a convenient way to start the process. All we need is the vehicle identification number (VIN) or your license plate number and the state where it's registered with the DMV. Next, input the mileage, color, and answer some questions about your vehicle's physical condition. That's all it takes to get started.
Get a certified offer in less than 30 minutes
In as few as 30 minutes, BMW of Bellevue will contact you with a competitive offer. Every offer we issue, whether for a trade-in or a sell my car scenario, reflects the fair market value for King County.
Bring your offer to our BMW store and get paid
Once we inspect your vehicle and verify its condition, you'll receive a guaranteed offer. You have seven days or 500 miles to make a decision. If you decide to take the offer, head to our dealership. BMW of Bellevue is easy to find. Located east of the Northrup Way and 120th Avenue NE intersection, we're three minutes east of Looking for Chai Taiwanese Kitchen.
Benefits of Trading In
Save time & hassles
Selling your car privately can be a hassle. After placing a classified ad and listing your car online, you'll field phone calls from potential buyers, some serious, plus a handful of lookie-loos. 
Whether you meet at your home or choose a more public place, like The Shops At The Bravern, coordinating test drives is time-consuming. And even though you have the records and receipts proving your car has been well-maintained and everything is in working order, you may still have to contend with the private buyer who insists on taking your car to their mechanic. 
Trading your vehicle with us avoids these hassles and headaches.
Reduce the amount you have to finance
When you trade in your vehicle, BMW of Bellevue essentially purchases your car. We apply that agreed-upon amount toward the purchase of any used car or new vehicle. This helps offset the price of a new car and may even help lower monthly payments. It also reduces the amount of sales tax that's collected.
Use our online payment calculator to get an idea of your monthly payments.
Why Sell My Car to BMW of Bellevue?
One of the most frequently asked questions (FAQs) by customers living in or near the Bellevue, Redmond, and Kirkland communities is "Where should I sell my car?" The sheer number of websites and companies out there claiming they'll offer you the best price on your old car is overwhelming. Add to that the time spent on sites like Edmunds, Autotrader, or Kelley Blue Book (KBB), trying to determine accurate for-sale-by-owner pricing or your vehicle's trade-in value.
If you're like most of us, time is your most valuable commodity. At BMW of Bellevue, we understand that. We pride ourselves on guaranteeing that every transaction at our dealership is simple, straightforward, and hassle-free. We'll have you in and out in no time, whether you leave in your brand new BMW, headed to El Gaucho, or you leave with cash in your hand.
FAQs
Are BMWs easy to sell?
Selling your BMW to BMW of Bellevue is a breeze. All you need is some basic information such as: your VIN, vehicle Mileage, color and registration information. Once you have that information BMW of Bellevue will take care of the rest.
What is the best place to sell my BMW?
BMW of Bellevue takes the stress out of selling your BMW with our streamlined process. Get a check on the spot when you sell or trade-in your BMW or take a few days to think about it. Our offer is good for 7 days or 500 additional miles.
What do I need to sell my car?
In most states, to sell your car to another person, dealership is a valid title to the vehicle and ID matching the title. You may also need a Vehicle History Report and Maintenance Records.
What's the difference between trading in a car, a private sale, and selling to BMW of Bellevue?
At BMW of Bellevue, we offer a no-hassle appraisal experience for your vehicle. If you are looking to sell your vehicles quickly, you can leave with payment in hand. Selling a car privately can take months and comes with uncertainties that may not suit your current needs.
Can I sell my car without a title?
A title certificate is a vehicle's proof of ownership. Since, in most cases, it's illegal to sell a vehicle without a title, you'll need to acquire one before transferring ownership to a dealership or another person.
How much can I sell my car for?
Age, mileage, and condition are all important factors that BMW of Bellevue takes into consideration when determining the value of your vehicle.
How can I sell my car fast?
Once we inspect your vehicle and verify its condition BMW of Bellevue will contact you In as little as 30 minutes, with a competitive offer.
Dealership Hours
Monday - Friday

9:00AM-7:30PM

Saturday

9:00AM-6:00PM

Sunday

Closed